<!— diytricks.info 300х650 —>
Keeping your refrigerator organized not only makes it easier to find what you're looking for, but it can also create more space and keep things from going to waste. There is nothing more frustrating to me than having to throw away expired food that has been forgotten about because it was hidden in the back.
Whether you have a large family, roommates, or even live alone, there are a few ideas and cool fridge hacks in here that you probably haven't thought of!
1."EAT ME FIRST" BIN
Even with the best of intentions, I always end up throwing out spoiled or expired food that was buried in the back of the refrigerator. It drives me INSANE!! A lot of times I look at the dates on the yogurts to see which one I should eat first, but this doesn't mean the entire family will do the same. Take this tip from Ms. Simplicity and create an "Eat Me First" bin to prevent future waste.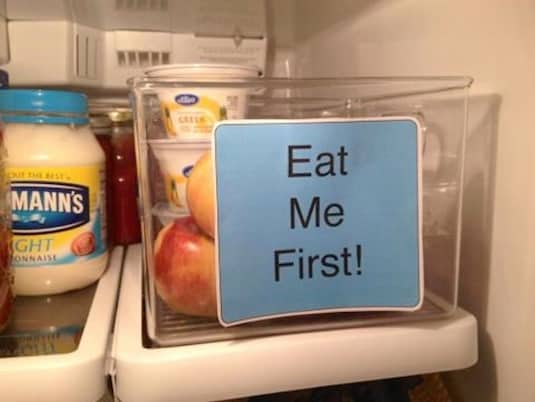 2. LAZY SUSAN IN THE FRIDGE? YES!
For all of those containers and jars that get lost in the back of the fridge, consider using a small lazy susan or two for easy access to all of your condiments and such. A stackable lazy susan is even better for tall shelves to help use up all of that empty air space. I have two of them in my refrigerator! I'm not really sure how I survived without them before.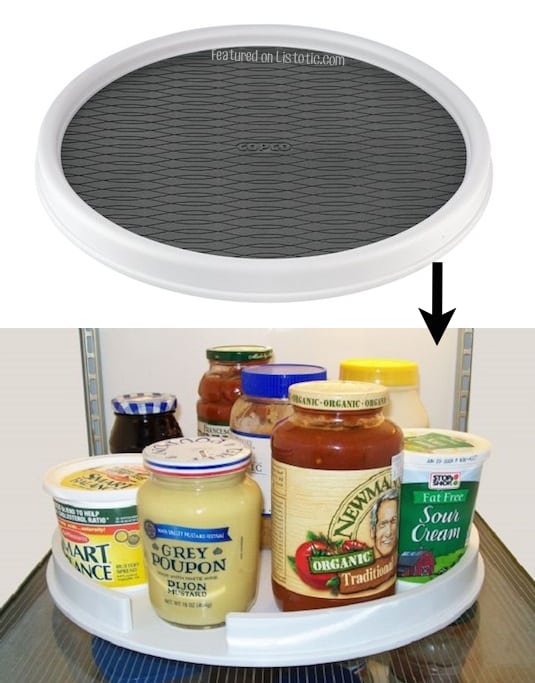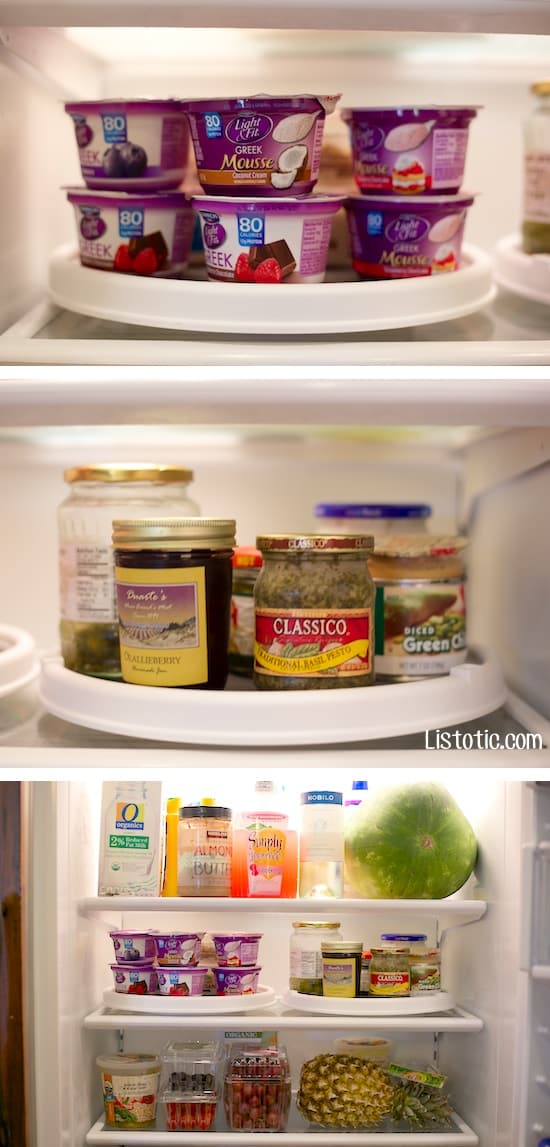 3. UPSIDE DOWN SQUEEZE BOTTLES
Store your squeeze bottles upside down in an egg carton to not only make them squeeze with ease, but to also keep them from sliding around and falling over in the refrigerator door. Check out more details here.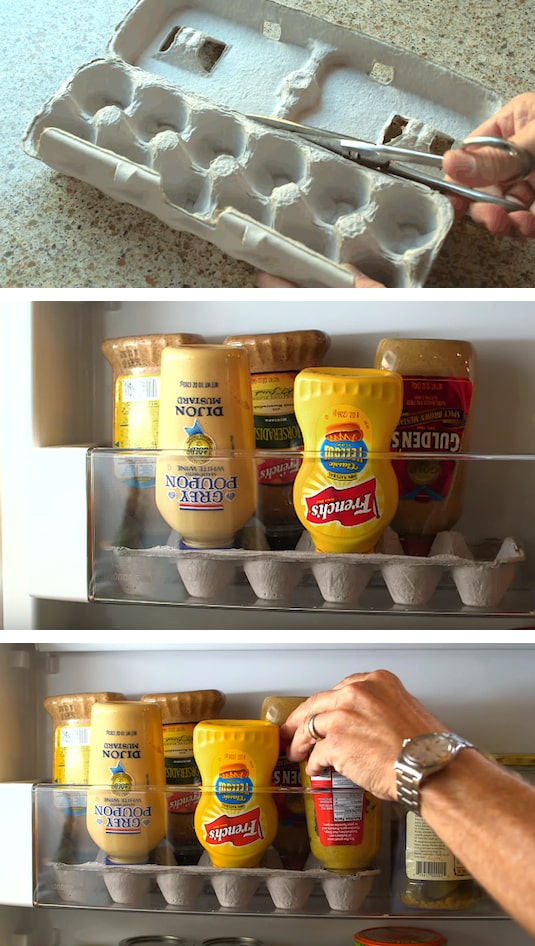 4. DIY MAGNETIC STORAGE BINS
Just by trimming adhesive magnetic sheets to fit on the bottom of small plastic storage containers, you can store things like nuts, seeds and herbs up and off of the valuable shelf space in your refrigerator. Check out all of the details over at Tatertots & Jello! You would certainly have to hand wash these containers, so I wouldn't store anything messy or that gets replaced a lot.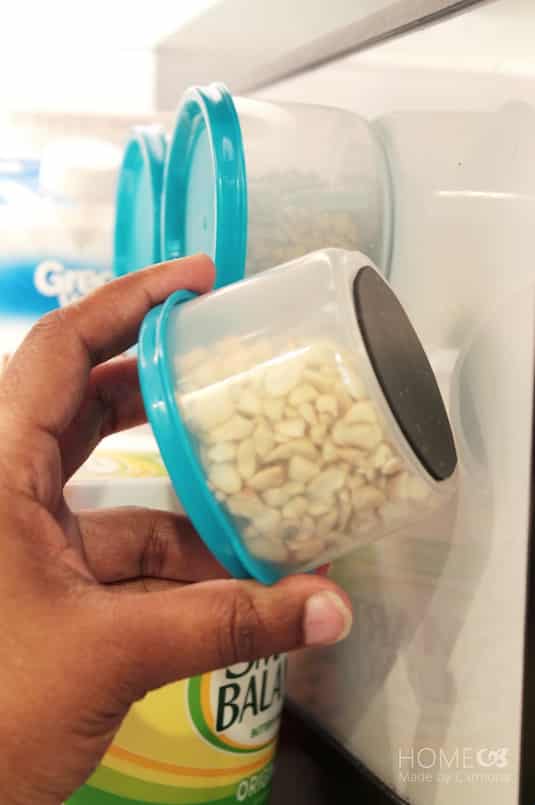 5. LINING SHELVES FOR EASY CLEAN UP
Press'n Seal has so many uses like this cup trick, but who knew it could also be a money saver by using it to line messy shelves in the refrigerator in lieu of those expensive shelf liners. I like to use it in the door of the refrigerator where we keep our milk because somehow that shelf always looks like something exploded. Just be sure to clean your shelves really well, and allow them to dry completely before applying it.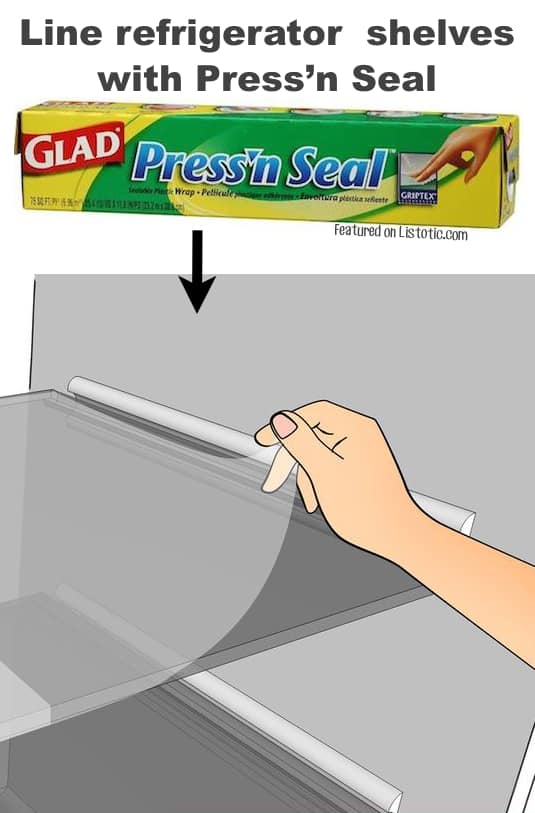 6. SNACK STATION BINS
Whether it's for the kids, a roommate, or even you, sometimes it's nice to have dedicated space in the refrigerator for everyone in the house. I especially like this idea for kids so that they know what their options are. These baskets are perfect for this purpose, and you could even put a label on each one so that there is no confusion. Check out more details over at Happy Go Lucky.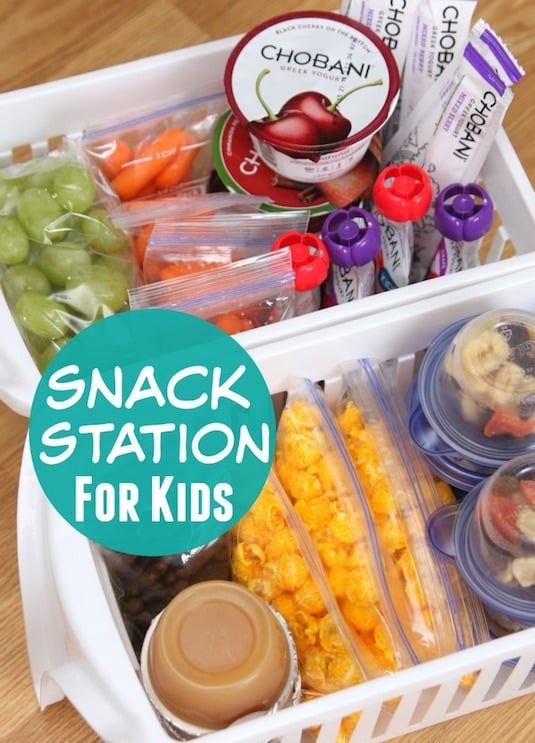 7. MAGNETIC DRY ERASE BOARD
Because the refrigerator seems to be the most visited place in the house, it makes sense to have a spot for reminders, lists and notes like "don't forget about the leftovers" right where everyone will see it. This way everyone can contribute to the grocery list when they see that something is running low. You can pick up one of these magnetic dry erase boards on Amazon. Just be sure that your fridge is magnetic first!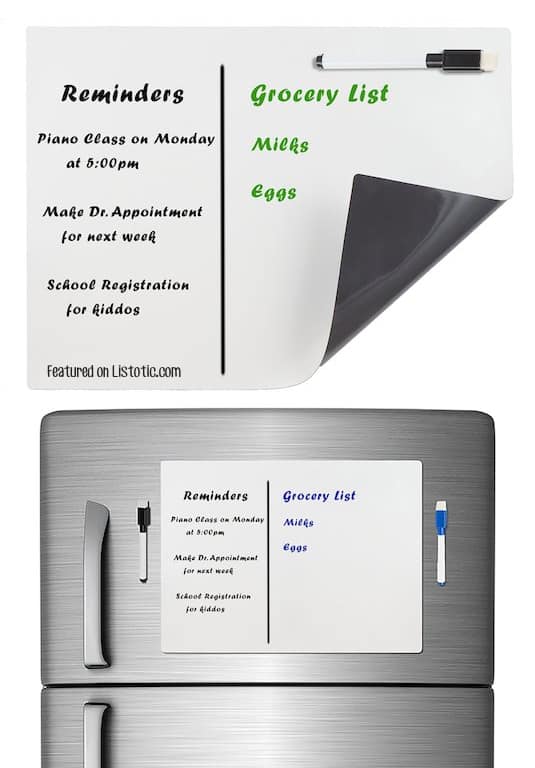 8. FREEZER DRAWER BINS
If you have the bottom pull-out style freezer, chances are you've lost or forgotten about dozens of things that tend to get buried in the bottom of that ginormous, deep drawer that doesn't have any dividers. Simply Organized found a solution to this problem with inexpensive multi-purpose bins. What a fabulous idea! She separates everything by food category (meat, veggies, breakfast, etc.). Go check it out here.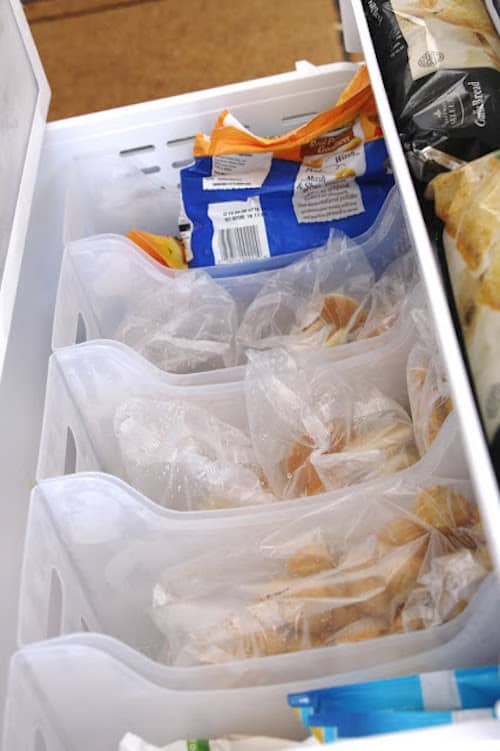 9. SPACE-SAVING DRINK DISPENSER
For easy access to your favorite drink (even if it's just lemon water), check out this space-saving beverage dispenser for your fridge! I love that you can fill up without even having to take it out, and it's so skinny you won't even miss the tiny bit of shelf space that it takes up. I found this idea over at Chez Larsson (she has a few other fridge tips like this, too).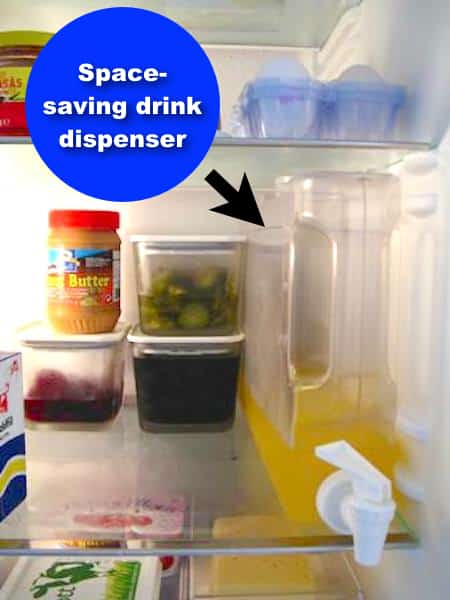 10. BINDER CLIP HACK
Use up all of that empty air space in your freezer with binder clips! These things have so many great uses. I like that these clips not only keep opened packages closed, but the shelves in your freezer are perfect for hanging them to create more space for other things underneath. The also makes them easier to see so that you don't forget about them!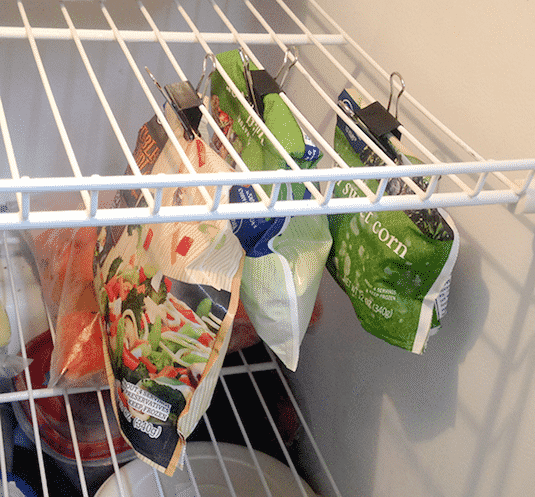 11. MAGNETIC BOTTLE HOLDERS
Again, it's all about that air space! Image if you could simply hang your bottles on the top of your fridge to free of up space on your shelves. You can pick up a few of these here on Amazon. They simply peel and stick to your refrigerator ceiling.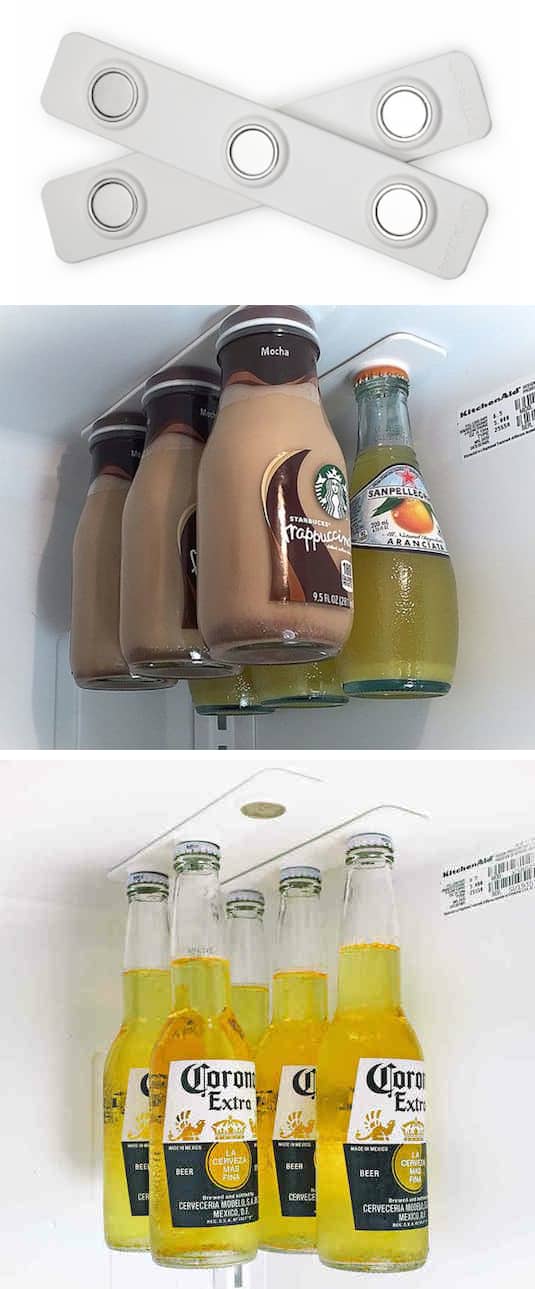 12. SNACK DRAWERS FOR KIDS
Consider setting a small section in your fridge aside for the kids using mini drawer containers filled with healthy snacks! This is especially ideal if you have more than one child, so they each get their own drawer. It could also be used to keep other small items organized such as butter or tuna packets. Go check out the full details as well as where to get the drawer over at Pinning With Purpose.